Zhik Offshore OFS900 serien er offshore seiltøy for de aller mest krevende forhold. Offshore seiltøy trenger ikke lenger være tungt og lite smidig, OFS900 er lett og behagelig i bruk. OFS900 har alle de riktige detaljene og praktiske løsningene, men like viktig er den langvarige holdbarheten. Dette seiltøyet har du lenge! Det vil være ca 2 ukers leveringstid på denne smocken. Guide til størrelser HER.

Tested by Team AkzoNobel and DongFeng Race Team, the new Isotak X range represents the pinnacle of ocean racing gear and features Zhik's latest patent pending innovations. The Isotak® X range features our multilayer composite membrane fabric proved to be 4X more waterproof durable than the marking leading ePTFE ocean fabric. All garments have been engineered to have reduced seams reducing weight, maximising flexibility and increasing durability.
Going into the Volvo Ocean Race, we found that ocean gear by and large lacked the ability to adapt to different weather and conditions, meaning that crews would have to carry extra gear, or compromise on the performance of their gear. We found that safety and performance was compromised as sailors experienced inhibited central and peripheral vision from protective hoods and peaks, often resulting in a "letterbox" field of view. Uncomfortable, sticky and tight latex seals that wear down too quickly. Ocean gear needed to be safer, perform better, and be more versatile and more durable.

Developed to provide a high level of protection while enhancing the sailor's field of vision, Hydrovison® is our new hood visor, made from a rigid & anti-fogging clear polycarbonate which provides unprecedented peripheral vision and protection. The Hydrovision® visor greatly reduces the "letterboxing" effect of traditional hoods, providing at least double the amount of vertical vision, while increasing the protection against the large amounts of water that smash directly into the face. The visor can also be unzipped and swapped out with other Zhik visor types. Patent Pending.

With conditions capable of varying from one extreme to the other on a single leg, having versatile clothing is a big advantage. Our new Zhik Adaptive™ hood & collar system allows collars to be interchanged depending on those changing weather conditions. This advantage enables crews to carry one smock with different hoods that are adaptable to all expected conditions, meaning less weight on the boat, and faster, easier gear changes when required. Patent Pending.

Our newly developed proprietary neck and wrist Reziseals™ are made from a highly stretcheable, soft and tear resistant textile and polyurethane composite material that offers unprecedented comfort with long-term resistance to degradation. Patent Pending.

Biomotion reflective detailing highlights key points of the human anatomy, enabling greater visual recognition of crew members & allowing them to judge movement and direction in low light conditions. This grants valuable split seconds of response time in cases of emergency.
Zhik Adaptive™ System

Our new interchangeable hoods allow versatility like never before

Hydrovison® Visor

Anti-fogging and rigid visor that gives unparalleled vision

Advanced Reziseals®

New super soft & durable composite seal design in wrists and neck

Biomotion reflectors

Strategically placed reflectors allow easy recognition of body movement

Hydrobase® lining

In side pockets and collar provides fast drying warmth and comfort

Quick stow hood

PFD compatible hood lets you raise & lower hood quickly with one hand

Long length rear

Longer length rear panels in the garments for added protection

YKK® Zippers

Highly durable YKK® zippers throughout

Multiple pockets

In key locations for easy access & storage of important belongings

Reflexite reflectors

Provide high visibility in low light conditions

Cordura® Reinforcement

1000D Cordura® in knee & rear panels protects high wear areas

Inner neoprene waist skirt

To prevent water flushes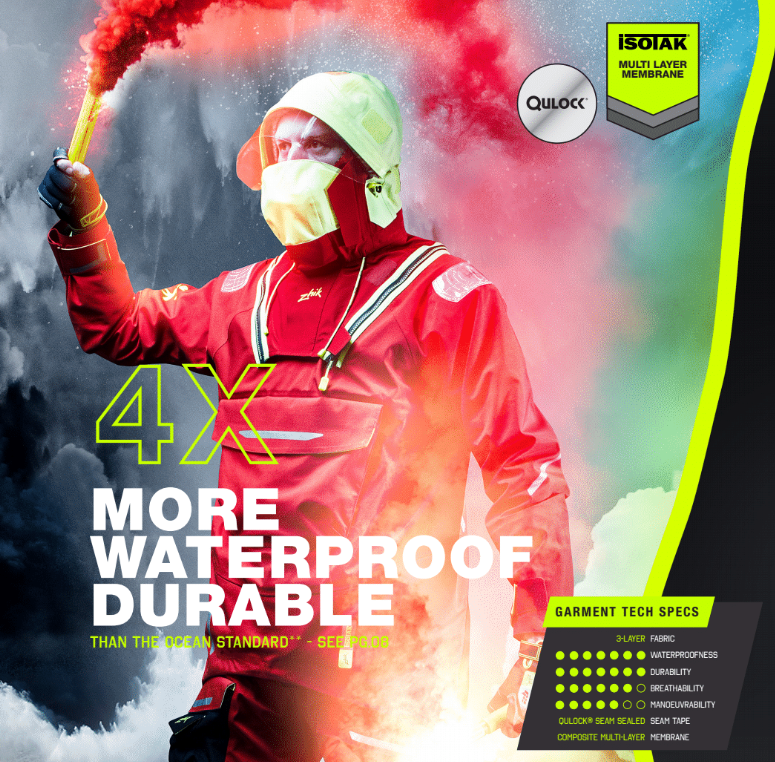 Se hele utvalget fra innovative Zhik: ZHIK KATALOG (pdf)
---
Gear Made For Water
Whether pushing the boundaries on the forefront of innovation, defying expectations in design and technology in water sport apparel or kicking back after the race and watching the sunset, Zhik is never far from the water. We challenge the status quo, identify problems, and find breakthrough solutions to continually set the benchmark. Tested and proven, Zhik gear is the choice of Olympic and world champions around the globe.
Our History
Zhik started through the need for innovation in the dinghy sailing market post Athens Olympics 2004. After building a reputation as the industry leader in the dinghy classes, Zhik set about revolutionising yachting gear for racing sports boats and offshore yachting, which culminated in winning its first entry into the 2017-2018 Volvo Ocean Race with Dongfeng Race Team. Zhik has always innovated and is expanding on its research and development with new projects in material science likely to change many facets of performance apparel including eco-friendly alternatives for a more sustainable future. Zhik is now growing to include new technical products that will appeal in a larger set of outdoor and marine applications.
Innovative Gear For The Aspiring Athlete
Zhik started through the need for innovation in a gap in the dinghy sailing market post Athens Olympics 2004. Since then we have steadily become the most dominant brand in performance dinghy sailing. More world champions & Olympic sailors from all over the globe trust in Zhik gear to help them win than any other brand. All this from a little office on Sydney's North shore.
Zhik gear is part of the benchmark for the dinghy sailing market. Our signature products are usually groundbreakers in the field - and frequently copied by competitors. Our continual cycle of innovation has allowed us to maintain our good reputation - and to continue to be a leading name in dinghy sailing apparel.
Leaving Tradition Behind
We apply ourselves to yachting apparel technology with the same passion and dedication we show the dinghy market. Our yachting innovations have been gamechangers, tried and tested in some of the world's toughest ocean races - including the 2017-18 Volvo Ocean Race, where it won alongside Dongfeng Race Team.
Zhik caters to high-end yachting performance as well as leisure and lifestyle. Beginning with our range of Z-Cru jackets, we're introducing more lines of casual and crossover garments. Our lifestyle gear features clean, minimalistic and futuristic silhouettes with sharp, tech details and trims. While our latest range of performance shells incorporate features like removable hoods for a range of adaptability in any sailing condition.
Apparel Technology
At Zhik, we believe in a ground-up approach to our garment technology. While other companies utilise shells and materials already on the market, our in house. Research and Development department trial and test our proprietary materials and technologies to bring you the cutting edge in high performance gear. We work with pioneering laboratories to produce market-leading apparel and design. Putting our technology through the strictest testing gives you peace of mind about the performance of your Zhik gear.
Sustainability
We are working towards a more sustainable and eco friendly future for our clothing and our packaging.
Taking away traditional non bio-degradable oil based neoprene, and replacing it with a natural plant based alternative, we designed a wetsuit great for you and the environment. With all the performance features and quality of our traditional neoprene wetsuits. Making it a perfect choice for any consumer concerned with the environmental impacts facing us today.
In the last few years we have also redesigned much of our packaging to limit or remove all single use plastic, replacing it with paper or other materials. We aim to be completely packaging plastic free in the near future.